Working as a volunteer
Calendar
MARCH
Woodland work, tree planting, start of lambing, fire wood processing, planting in glasshouse/poly tunnel, preparing gardens for sowing, feeding animals. Cleaning out cowsheds. Willow harvesting. Fencing
APRIL
Firewood processing, sowing gardens, care of lambs, opening beehives. Setting up the camp. Sheep foot trimming.
MAY
Gardening, planting bulbs, planting vegs, wine making.
JUNE
Shearing, gardening, planting frost tender vegs.
JULY
Haymaking, gardening, soft fruit picking, courses. Ragwort pulling. Yew hedge trimming.
AUGUST
Honey collection, gardening. Bracken bashing. Bracken thatching.
SEPTEMBER
Bee feeding and hive closure, harvesting, storage, making pickles, jams, wines. Taking down the camp. Propagating cuttings.
OCTOBER
Harvesting, Preparing gardens for winter, firewood processing, fencing, more pickles and jams. Hedge trimming. Prepare sheep for rams.
NOVEMBER
Woodland work, firewood processing, pruning soft fruits. Coppicing, building, tree planting, Cutting heather, Thatching, hedgelaying, fencing , moving muck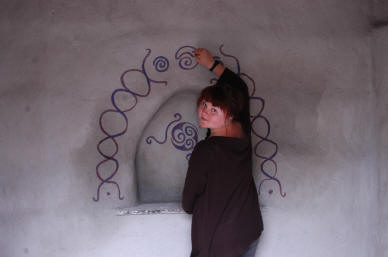 What to bring
Volunteers please bring plenty of old, warm working clothes. (yes it can be very cold or wet in Wales even in mid summer!), Waterproofs are invaluable as we work out in all weathers. We don't have a stock of clothes to lend everyone - there are just too many people, so please make sure you come with everything you need as you will be miles from big shopping centres. Wellies are essential. Working gloves, hot water bottles and torches are useful. Alarm clocks essential if you don't wake up early. Watches too- as people are often working in different areas. (There is no phone reception) Bring all your own toiletries, sun cream, plasters.
'There is no such thing as bad weather - just bad clothes!' Come prepared for the worst and then you will only be pleasantly surprised rather than permanently frozen!
The sort of people we are looking for!
We are looking for motivated, energetic, people of all ages with experience of this sort of lifestyle or a real desire to learn about it. To get the most from this experience you need to be happy with doing hard physical work outside in all weathers. You need to be adaptable, flexible, focused, curious and enjoy the company of a very mixed group of people. You need to be able to work alone or as part of a team - you will be doing both. It is not possible to do this work if you have a weak back, sprains etc or frequent bouts of illness. We are not a recuperation centre or holiday camp. The willingness to learn and try is just as important as skill. We really appreciate those who make an effort even if they make mistakes in the process. Age has proven to be no barrier to ability. Because you will be doing many very varied tasks that can be quite complex, your level of English needs to be reasonable.
Directions -click here
Please note that in 2015 we will be having closed periods throughout the year. These will not affect the long term volunteers but if applying as a short term volunteer you will need to avoid these.
Long Term Volunteers (Over 3 months)
We can take long term volunteers who have a specific skill to offer and who are willing to work with one or two helpers on a specific project. This would generally b someone skilled in building, carpentry, landscaping, gardening or housekeeping - but there may be others so if you think you have something specific to bring to the farm let us know. All long term applicants have a three week probationary period before either side makes a longer term commitment.
Short term volunteers (Max one month - unless you have been here before)
We do not accept volunteers for less than 1 week - 5 working days. Most people find about 3 weeks an optimum length of stay. We have a limited number of places and can only accept a proportion of those who apply so please don't book a place unless you are pretty sure you are going to take it up - it is demoralising and all too frequent to turn away really good applicants because there is no space.
Please download and send this form back to us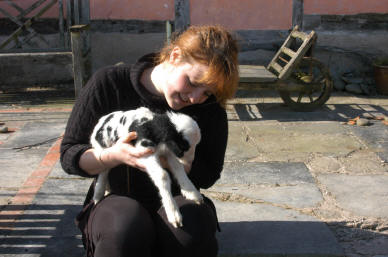 TYPE OF WORK
Our working days are very varied. They generally begin with a meeting at 8.45 am when we look at the tasks for the day. Each volunteer works in their own garden till a 20 minute tea break when we move on to the main task of the day (some volunteers come to do a specific job but most to try a little of everything. There is a one hour lunch break around 1.00 . We continue till 4.15 when we collect up the tools and end with a cup of tea together at 4.30. Everyone is expected to help clear up all meals, and one morning a week to help with housework. We share an evening meal around 7:00.
Some jobs - cooking, milking, watering need to be done outside these hours. At weekends the volunteers who have worked 5 days, do a minimum of work - essentials like watering gardens or feeding animals - but otherwise are free to wander into market in the town or explore the beautiful landscape that we are surrounded by. Those that have not done a full week will be expected to work. Cooking is shared by everyone on a rotational basis.
Some jobs like milking, calf rearing and cheese making are not seasonal and there are periods when we do not do them at all. Opposite is a summary of tasks that we tend to focus on each month.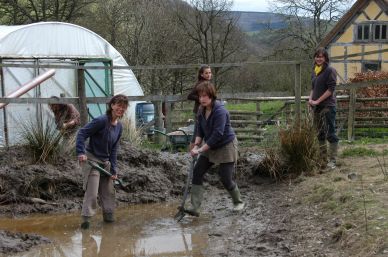 ACCOMMODATION for volunteers is in shared rooms or balconies. There are 2 small 'cells' for those who do not wish to share, or volunteers can bring a tent if they require more privacy. Bedding is provided, towels on request. If, for any reason you can not share a room it is essential that you let us know before confirming your place.
FOOD is provided from the farm wherever possible - in 2012 we produced enough vegetables, meat, milk and cheese to provide for most of our needs. The most difficult months are March - May. We do not have the resources to cater for different diets normally - especially those relying heavily on bought-in food, so anyone wanting to volunteer with special diets will have to be prepared to cook for themselves on days that they can not eat the food provided and buy in any special foods they require. If you have any dietary restrictions please let us know before your arrival.
We all eat together in the farmhouse and take it in turns to cook. The evening meal is a focal point of the day when we can all relax together after a hard days work.
INTERNET ACCESS We have wifi and while volunteers are able to access it for travel arrangements and emails we do discourage volunteers who are heavily dependant on use of computers. If you have an internet addiction and don't want to get off the sofa all weekend this really is not the place for you. Use of laptops/ mobile phones etc is restricted to bedrooms or the living room. There is no mobile phone reception in the house.
DRUGS We have a strict policy of no unprescribed drugs on the farm. Please respect this and do not embarrass us into having to ask you to leave. Alcohol is allowed in moderation - but drunkeness is not! Please respect others though - everything brought to the table is for sharing, not individual consumption.