Flint Knapping
7 -8 September 2013
Tutor : Will Lord
Will is back again this year to give his fascinating insight into flint knapping.
In this two day course you will learn how to make a selection of primitive tools, such as arrowheads, knife blades, scrapers, burins and axe heads. - from the best flint in the UK (or probably the world!)
Alongside the flint knapping you will have access to bone for making needles and harpoons. We will use sinew and pitch for hafting the arrowheads and explore fletching techniques that work well and would most likely have been used in the past. Altogether you will have a fascinating two days that will open the distant past to you, in a way that will stay with you forever.
All tools, materials and safety equipment will be provided. For more details see Will's website beyond2000bc.co.uk
Teaching : 10 am Monday - 4 pm Tuesday
Cost of course : £180 includes lunches and materials. It is possible to stay on the farm or camp . Please see details under Accommodation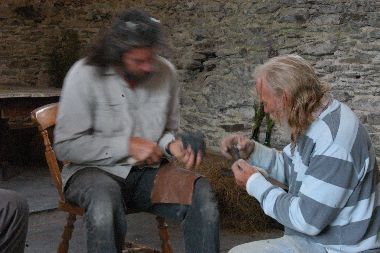 Flint knapping with John Lord