Volunteers
Volunteers have played a huge and invaluable part in the development of this project. Their work has shaped land and buildings. Their stories and generosity fuelled our spirits and given shape to our vision.
Volunteers are welcome on the farm from the beginning of March to the end of November. Most work on the land, in the vegetable gardens, handling livestock, fencing, building, woodland management or hedge planting. At some times of year when it is very busy, visits are restricted to a week though we take on two longer term volunteers each season if they have some skill to offer - cooking, gardening, building, agriculture or fundraising. For more details of volunteering and the work we focus on each month look at our working as a volunteer page.
All volunteers are asked to fill in an application form. (which can be downloaded here and sent to Old Chapel Farm, Tylwch, Llanidloes. Powys SY18 6JR or emailed back to us)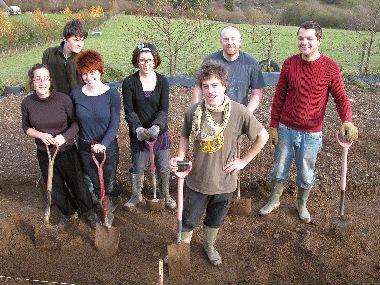 COMMUNITY MEMBERSHIP
We have had a lot of interest in community membership. Before arranging a visit please could potential members send us a completed application form. We hold occasional working weekends for people considering joining a community. Please keep an eye on our programme for dates.
Community Members Application Form