Neolithic Settlement
Our plans to build a working Neolithic settlement are finally taking shape. Combining our passions for archaeology and farming we want to construct a working farm such as may have been built by our ancestors 6,000 years ago in the momentous transition from hunter-gatherer living to the beginnings of agriculture and all the possibilities that created for humankind. The site, with its spectacular mountain views, has been fenced off and trees are being planted around it to give the feel of a woodland clearing. Below, 2 acres of potential coppice have been planted to provide oak , ash and hazel for the future. Below this again are the oak woodlands and regenerated coppice from which we are currently sourcing our materials.
Our Neolithic sheep - with hair rather than wool
LIVESTOCK We have a small flock of soay sheep - the most primitive sheep native to Britain that have been little changed from the bronze age. We will be using these first to work out sheep handling methods and design sorting pens etc. We are very excited by the acquisition of three mouflon - the sheep that would have been around in the Neolithic - and ancestor of all modern breeds. We intend to build up the flock on the farm before releasing them in the settlement. Goats and pigs will hopefully be introduced at a later date.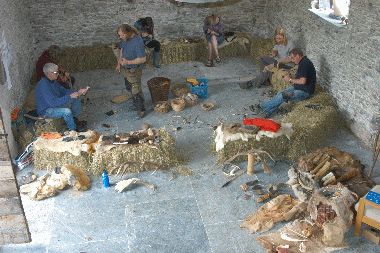 Making flint tools for working on the site
TOOLS We wish to demonstrate the use of flint, stone, antler and wooden tools in the construction process to gain an idea of the work involved.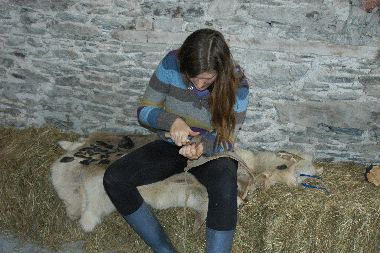 Knapping flint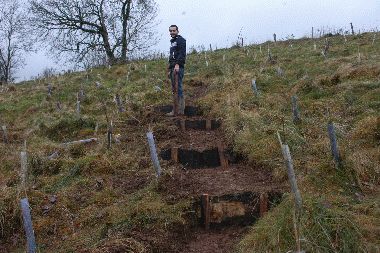 Path being constructed through newly planted coppice.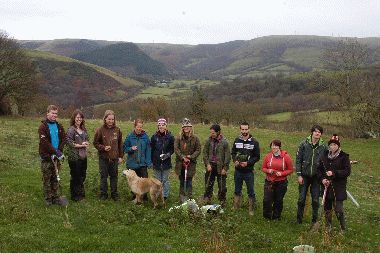 Tree planting on the site of the settlement
CROPS We have been experimenting with small plots of emmer wheat (the earliest form of wheat introduced into Britain) We are building up a collection of plants for dyeing, herbs and fruiting trees that would have been around in the Neolithic. Flax will be introduced next year and we have been looking at tools for processing this into rope and cloth.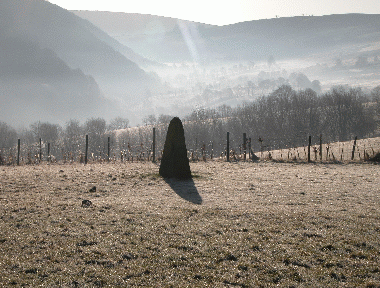 RITUAL SITE The ritual site will be developed in conjunction with the domestic part of the settlement.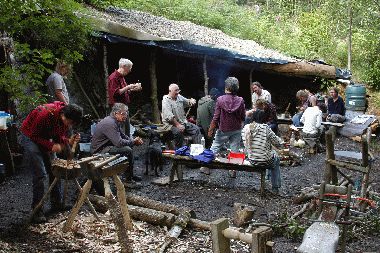 Timber preparation in our woodland base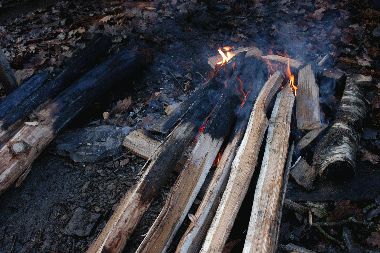 Charring split oak posts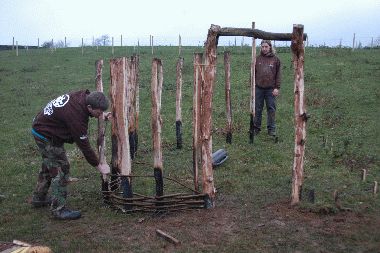 BUILDINGS The buildings will be constructed of local materials that would have been around the area in the Neolithic. We have already experimented with different materials to gain an idea of building techniques we wish to employ.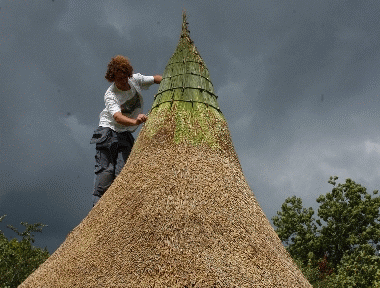 Juncus and reed in prototype roundhouse roof