Stone Age Technologies
September 7 - 15 2013
An exciting 9 day event - 5 days of tuition followed by 3 of working on the early stages of our unique Neolithic settlement, plus a day to relax or work on your own project.
Will Lord, who, with his father, is the most renowned flint snapper in Britain today, will be our tutor for two days of flint knapping, two days of pelt processing, and one day of bow making. (See these pages for details). Although each course has a focus, a huge range of stone age technologies will be covered over the five days. Everything you make you will take home with you. Numbers on these courses are kept low for plenty of time for individual tuition so please book early to be sure of a place.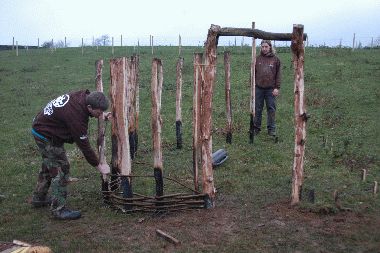 Weaving the first hut with hazel rods
The second part of the week will be a chance to get involved in the reconstruction of a Neolithic structure. Weaving, daubing, thatching - we are not sure what stage the building will have reached by September.
On Saturday we will do some foraging for wild foods and the week will culminate in a stone age feast where we will cook (our own meat) in an earth oven.
Sunday will be a chance to relax, walk, explore our beautiful hills etc. before going home.
Fee for the week £400 which includes all lunches, Saturday night meal, all materials.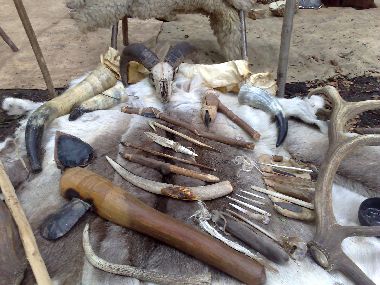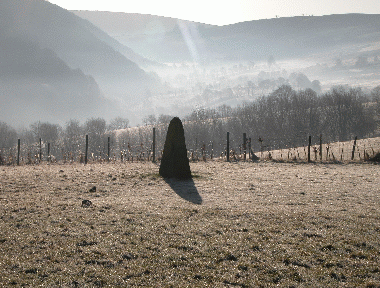 The woodland site where we prepare timbers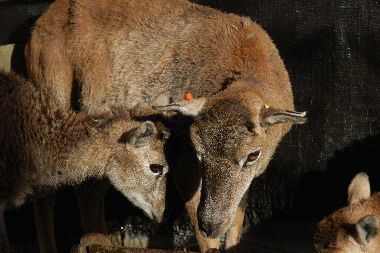 Our 'stone age' sheep
Various types of accommodation are available on the farm.